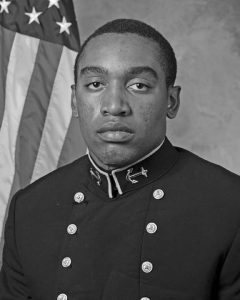 By Patrick Stevens – The Washington Times August 20, 2012
ANNAPOLIS, Md. | Inside the Navy defensive backs' meeting room, there is one guy who nearly always has the answers.  Often, safety Tra'ves Bush can guess about defensive coordinator Buddy Green's questions, too.
"My position, he knows," cornerback Parrish Gaines said. "His position, he knows. Free safety, he knows. Outside linebacker, he knows. He knows the defense so well and he always knows what coach Green is going to ask in meetings."
Bush's all-encompassing knowledge is part of why he's one of Navy's most valuable players entering his final season. After spending much of last season at outside linebacker, he's back at the rover position in the secondary.
Around him are both youthful returnees and a few inexperienced veterans. Safety Chris Ferguson started the last seven games last year as a freshman. Gaines, another sophomore, got the nod in the final five games. Junior cornerback Jonathan Wev made his first career start last season but owns all of nine career tackles.
Bush might not be asked to move again, although he did work at corner at times during camp this month). He will certainly help nurture the rest of the defensive backs in the season's early stages.
"There's no other guy in my mind that I've had that understands our whole defense," Green said. "He has a knack and an unbelievable sense."  That much was obvious to Green when he recruited Bush out of Johnston, S.C., and even more so after Bush arrived at the academy.
Needed for Navy's nickel package? Bush is capable. Asked to fill in at inside linebacker? The techniques he learned in high school were so well-tuned the move there two years ago for one game was seamless.
"It's something I take a lot of pride in, to be able to go out and play in pretty much whatever position he puts me in," Bush said.
Only now, though, is Bush in the spotlight quite so much. He ranked second on the Mids in tackles last season with 93 and returned an interception for a touchdown against Western Kentucky. But he remained unassuming and workmanlike, welcome traits for the Navy coaching staff.
Bush said one of his main messages to teammates is to keep their emotions in check as they try to rally from last year's 5-7 record. It isn't exactly a problem for Bush to heed his own advice.  "I've always been a low-key kind of guy," he said with a laugh.
Gaines said he often looks over to Bush during drills deep into practice, thinking he'll see some fatigue or duress.  It never happens.  "I don't know if he's the most talented safety we've ever had, but probably the most disciplined," coach Ken Niumatalolo said. "Because of that discipline, hard work has paid off and he's one of our best football players."
It might get noticed a bit more this year. Bush has 12 career starts, more than everyone other than linebacker Matt Warrick (14 starts) on the Mids' defense and nearly as many as the rest of Navy's secondary combined.
"He's so football-smart — not just football; he does a great job in the classroom — but he has a great sense of the game," Green said. "He understands the game. He understands our defense. I think Tra'ves could play any position on our defense."
Green paused.  "Matter of fact, he's come close," he said.
For anyone wondering how vital Bush will be for the Mids, that might be the ultimate answer.
Related:  Edgefield's Tra'ves Bush Leads Navy Football Team In Ireland