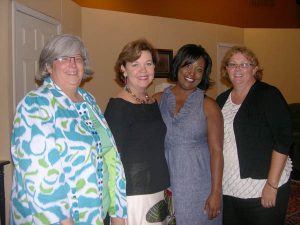 To Raise Funds for Breast Cancer
Jane Jenkins Herlong keeps her audience laughing, and sometimes about the most serious of issues.  That kind of laughter is healing.  So do we call Jane a local "healer," as well as entertainer, writer, and songster?
This songster did well before a smaller-than-usual audience (an unexpected death in the community drew the crowd away) that empowered her with louder than usual applause when she entertained for the "Hats-off-to-Sisterhood" as a fundraiser – their mission is to help provide for women in need who have breast cancer.
Jane Herlong's late sister had breast cancer and her recent book, What Ta-Tas Teach Us, is a poignant rendition of folksy humor and wisdom around the subject of "Ta-Tas." The book is dedicated to her sister.
Director of the Hat's-off organization, Vickie Butler <vcbutleredgefield.k12.sc.us>, says those suffering from breast cancer don't often contact her, but they should.  The organization can help. She says they are trying to bring Hat's-off more into the community to make it more known and available.
For those who had heard Jane at the 2012, winter, "State of the Chamber" event in Johnston, she once again did that great parody from Phantom of the Opera – "I am the speaker of the night," a seductive tune with funny lyrics.  She is good at that, throwing paradox into her humor and speaking of deep and important things while keeping her audience humored. Some call it "folksy wisdom" or motivational humor.
Jane uses self-deprecating humor at times, but with great confidence, for she is one of 125 women, world-wide, who hold the CSP (Certified Speaking Professional) with the National Speakers Assoc. and the Global Speakers Federation. Though Johns Island can claim her youth, Edgefield County claims her middle years!  Her books tell her story, and a new one is coming out soon: Bury Me With My Pearls.