Last Saturday, September, 1 2012, The University of Notre Dame and The U.S. Naval Academy football teams played in Dublin, Ireland. Edgefield's Tra'ves Bush was on the field for Navy. Penny Hunt filed this story for The Edgefield Advertiser from Dublin, where despite Midshipman Bush and his teammates' efforts, Navy lost to Notre Dame, 50–10. Editor's Note.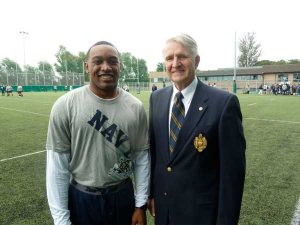 By Penny L. Hunt
It was a perfect Dublin day.  Overcast skies and the silvery sheen of morning mist reflected the blues and greys of Aviva Stadium, the iconic home of Irish rugby and football, rising high above the practice field in a form akin to an alien spaceship.
But today no black and white spheres were juggled from knee to head.  No brawny huddles grunted and pushed in territorial scrums.  Today American footballs were being hiked, punted and passed as this patch of green on the Emerald Isle became home game territory for the Midshipmen of the United States Naval Academy in their annual gridiron clash with Notre Dame University.
Sporting a striped florescent orange and white wrist band that marked me as a member of the press, I mingled with the likes of CBS reporters and their camera-laden assistants while being keenly aware of the oh so tiny digital camera carefully packed in my purse.
The gates opened, allowing us along with and other reporters to flood in and, as videos rolled and cameras whirred in the rapid staccato of eager sports' reporters, I strode confidently beside my husband, who was greeted warmly by Naval Academy coaches with whom he had previously worked.  Together we awaited the arrival of the Midshipman who was the subject of my highly anticipated interview… linebacker, Tra'ves Bush.
Heads turned as shouts went out and Tra'ves left his warm-up routine and hurried to join us.  He wore a broad smile as he greeted Captain Hunt, his mentor, advisor and Blue and Gold Officer from Strom Thurmond High School.
With a click of my daughter's borrowed tape recorder, my first ever sports interview began as Tra'ves' clear-eyed focus turned toward me.  We covered the basics:  the trip from Annapolis, Maryland went well with the exception of a two-hour delay for aircraft technical difficulties;  "yes", this was his first visit to Ireland and, like me, he could hardly believe two South Carolinians from Edgefield County were standing together in Ireland's fair city of Dublin.
Midshipman Bush began, "I'm just so blessed to have this opportunity.  You have to know all my life I dreamed of playing college football and it just blesses me to be able to be out here, living out my dreams."  With a mutual understanding of believers in God's divine appointments, we went on to discuss the capital letters emblazoned on the back of his number 9  jersey – "INAM".
"Each year the seniors come up with a phrase to motivate the team and this year we chose INAM which stands for 'It's Not About Me'. That's the way we must take the field and the way it has to be with everything else we do on and off the field.  It's not about you!  You have to be looking out for the next guy.  We're all part of a team!"
He then reflected on the time when he first met Captain Hunt and began considering the possibility of entering the Naval Academy and on the many people who subsequently helped him get to where he is today.  "It was such a big step in my life.  It was my parents, Captain Hunt and", with a gesture toward his coaches, "lots of other people that helped me get here."  There is no doubt this soon-to-be 2013 Naval Academy graduate, who will pursue a career aboard surface navy ships, will be well-served by his INAM philosophy as his leadership skills are honed and tested as a commissioned officer in the fleet.
When asked if he saw himself as a role model for other young men and women with dreams of their own, his countenance changed and a look of sincere humility crossed his face.  Following a contemplative pause in our conversation, Tra'ves softly answered in a tone devoid of any pretention… "Yes". And how true that is!
The same qualities that have led Tra'ves to be chosen co-captain with G.G. Green, another South Carolina football player from Columbia, and lead all the US Naval Academy football players onto the field at Aviva Stadium, are the qualities that will enable others to confidently follow him as he graduates and begins his new role as an officer.
I clicked the stop button on my recorder, thanked Tra'ves for his time and, with a hug of farewell, told him I wished I had been able to bring him some of his grandmother's banana pudding from back home.  He laughed heartily and then turned to rejoin his teammates leaving me as encouraged to continue pursuing my own dreams, remembering "It's Not About Me " as he does others.   It is easy to see why so many are so proud of this quiet hero from our home town.
Related: Few Have as Many Answers as Navy Safety Tra'ves Bush