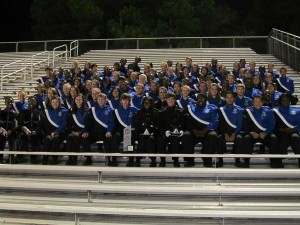 One week after winning the Lower State AA Championship for 2012 the Rebel Regiment took to the field at Spring Valley High School with their ultimate goal on the line.  When it was all over the young musicians from Strom Thurmond High School had achieved what 16 bands in the state had tried so hard to do as they were declared the AA State Champions.
"This group of band students were amazing the entire season," declared Thurmond's Band Director, Van Clark. Mr. Clark is assisted in preparing The Regiment to present the Frank Sullivan music while executing intricate marching maneuvers by Mr. Justin Craig and Mr. Dave Hill.
Supporting The 2012 Regiment's march to the State Championship is a dedicated staff made up of Marching instructor Sarah Brown, Color guard Instructors Tevin Middleton and Candance Craig, Color guard Choreographers Jonathon Colvin and Tevin Middleton, Percussion instructors Brian Turner and Tim Altman, Music arrangers Matthew Smith and Jason Frith and Drill Writer Jeffrey Fackler.
DRUM MAJOR  Stephan Bowe,Keylondria Crouch;  FLUTES Amanda Biddlecome, Courtnie Coon, Elizabeth Hernandez, Kayla Bush, Kayla Hardee, Leticia Pena, Micah Goforth, Sally Mickelson; CLARINETS Amber Lee, Angel Pahn, Carly Hutchinson, Gabrielle Cooks, Hailey Haggerty, Jerielynn Ouzts, Kayla Keplinger, Keysharia McKinney, Kristal Herrin, Madison South, Makenzie Quarles, McKenzie Wilson, Meg Jolly, Olivia Love, Shakayla Campbell, Susannah Hammond, Vanessa Merriwether; ALTO SAX  Andrew Barwick, Daniel Pena, Gabe Gibson, Khala Becker, Lanora Edwards, Marcus Williams, Sarah Alexander, Gabe Herrin;  TENOR SAX Eric McCauley;  BARITONE SAX Casey Newman;  MELLOPHONE Ciera Holder, Jerrilyn Dobbs, Karla Moore, Maegan Carter, Mills Dorn;  TRUMPET  Arturo Pineda, Cheyenne Rodgers, Christian Newsome, Jazmin Truesdell, Michael Stradley, Miguel Ortega, Monica Pineda, Pressley Wilson, Reanna Prince, Taylor Jaggers;  TROMBONE Austin Swiger, Bryston Butler, Cale Hoffmann, Isaiah Pinckney, Nic Hoffmann; BARITONE Tyree Becker, Brandon Pugh;  SOUSAPHONE Royden Watkins, George Williams, Malik Moore, Montavis Parks, Vincent Esparza;  BATTERY Kaitlyn Truesdell, Dayna Barnhart, Lucas Howard, Sydney Mims, Johnte' Grim, Roneisha Moore;  FRONT ENSEMBLE Avery Wise, Christa Turner, Nayeli Garcia, Donovon Stevens, Jazmine Neal, Alexis Gordon, Gabriel Cooks, Samantha Prescott, Destiny Williams;  SYNTHESIZER Antonia Adams;  COLORGUARD Zykeria Weston, Zakra Simpkins, Tamera Clark, Shelby Mims, Shaquana Miles, Olivia Brown, Malika Meriwether, Maggie Figueroa, Kaneisha Robinson, K'dreona Glover, Jessi Johnson, Jaz Harris, Elizabeth Adams, Desiree Holloway, Brook Caldwell, Brandy Bonczek, Ashley Toole, April Jones