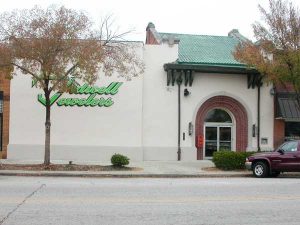 Tidwell Jewelers, Johnston, has a new front which has, also, given the Tidwells more space for their beautiful store.  Their original store, to the right in the photo and the part that holds the entrance, was built c. 1910 for the Bank of Western Carolina.  The style of architecture was used for their banks across South Carolina and in three towns of this area – Johnston, North Augusta, and Lexington – all are still standing.  This building was one of 16 key buildings in Johnston placed in the National Register.
The building to the left (in the photo) was, in mid 20th century, Hoyt Black's grocery business. (His son Henry Black still lives in Johnston). More recently is was Tilley Creek which has moved to Edisto St. The Tidwells have placed a large green sign on this storefront, complimenting the green tiles on the gabled roof of the original building.  The three several concentric arches over the doorway are of a Romanesque style and bring much light into what is a lovely store.
There will be a ribbon cutting for the opening of the "new" store on November 29 at 3:30 p.m.