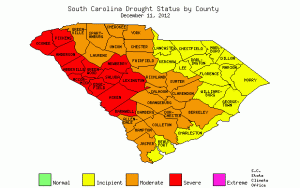 The SC Drought Response Committee, meeting via conference call on Dec. 11, upgraded the drought status one level in every county statewide. Oconee, Pickens, Anderson, Abbeville, McCormick, Greenwood, Edgefield, Saluda, Newberry, Lexington, Aiken and Barnwell counties moved to the severe drought level. Greenville, Spartanburg, Cherokee, York, Laurens, Union, Chester, Fairfield, Richland, Sumter, Calhoun, Orangeburg, Clarendon, Allendale, Bamberg, Dorchester, Berkeley, Hampton, Colleton and Jasper counties were upgraded to moderate drought status. All other counties in the state that were previously at no drought are now incipient.
According to Hope Mizzell, SC State Climatologist, since late September rainfall has been much below normal statewide. "Most locations that were upgraded to severe drought have received less than 50% of normal rainfall over the last 60 days resulting in deteriorating hydrologic conditions." She also pointed out that the last time this many counties were in severe drought was winter 2008/spring 2009.
Buddy Rivers, Sumter County Soil and Water Conservation District Commissioner and local farmer, summarized that overall rainfall was adequate during the growing season, however, significantly diminished throughout the fall. While the drier conditions helped with harvesting, the sustained period of below normal rainfall has left soil moisture levels, streams, and ponds very low for this time of year.
Stan Simpson with the US Army Corps of Engineers says the Savannah River is currently in their designation of level 3 drought status with roughly 41% of their conservation storage remaining, "Level 3 restricts Thurmond Dam to a maximum daily outflow of 3800 (cubic feet per second) CFS. The 2012 Drought Management Plan update introduced a wintertime flow reduction to our operations between Nov. 1 and Jan. 31. As a result, we are targeting 3100 CFS release at Thurmond Dam through January. There have been no reportedimpacts due to the reduced wintertime flow window (3100 CFS), but the reservoirs are continuing to decline even with the flow reduction to 3100 CFS. It appears there is still some room for an additional reduction of several hundred CFS without impacting downstream intakes. We will be trying to gain concurrence from the state and federal resource agencies for a deviation from our drought management plan to reduce Thurmond outflow to 2800 CFS for several weeks."
Daryl Jones with the SC Forestry Commission is concerned about the ongoing drought and the impact on potential wildfires, "During November, wildfire occurrence in the state was 57% higher than the five-year average. As we move into the traditional wildfire season that begins in late January or early February, we are very concerned that the ongoing drought will result in a very active wildfire season this year. The long-term drying of fuels will increase the intensity of wildfires, putting firefighters and the public at greater risk."
George Galleher, Duke Energy Hydro Fleet Operations engineer, reported, "If Duke Energy's winter forecast for drier conditions holds there could be considerable risk for water resources related issues next summer. Without significant rainfall (greater than the weekly average) the Keowee-Toxaway Lake levels (particularly Lake Jocassee) are not expected to increase during the winter of 2012 – 2013."
Dennis Chastain, West Drought Management Area Committee Representative, commented, "I know that people are focused on the upcoming holidays, but folks need to be aware that drought conditions are deteriorating all across the state. The Savannah River basin has been particularly hard hit by this on-going drought. If we do not get adequate recharge of the groundwater this winter, our headwater streamflows will continue to decline and the reservoir levels will drop off at an even faster rate. All things considered, we could be looking at a serious drought situation by the time spring and summer roll around. We'll just have to see how it plays out."
Drought Response Committee Chairman Ken Rentiers said the Committee is expected to reconvene sometime during late January 2013, to reexamine drought conditions around the state.