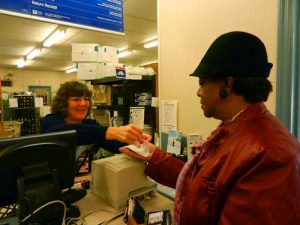 Susan Curry of Evans, Ga., is the new postmistress at Trenton, and she says she loves working for the US Postal Service.  She has been at it for 26 years and is getting used to a new placement – Trenton Post Office – since December 29, her first day.
Susan loves the work at the post office because she loves interacting with the customers.  The interviewer, looking back into the "cave" of P.O. carts, cubby holes for mail, and counter work spaces behind her, she wondered had she ever been "back there" where she could not deal with her favorite subject (customers).  She said when she was supervisor at Evans, Ga., she was "behind the desk" so to speak and did not see customers so often.  However, her job, when there was a problem with a customer, was to come to the front and problem solve with the public.  That she loved. "I could satisfy them 90 times out of 100!"
Ms. Curry started out in the big Augusta Post Office, downtown in the LSM – Letter Sorting Room.  It was the former Trenton Postmistress Laurie Kensey who was then in Evans and asked if she could come for a part time job as a clerk, which she did. From there she grew to be the Trenton Postmistress.
Her day starts when she is leaving Evans, around 6:15, arriving around 6:45 at the Trenton site.  She is usually greeted by one of her carriers who is already there, and three others join them for their morning work.
One nice thing about the Trenton site is there is an hour and a half for lunch, and they close the doors, noon to 1:30 p.m. "Sometimes I go out to Urban Outfitters," she says, where they have a clerk Lema Adams who handles the mail leaving from that site.
And sometimes she just has lunch and stays put.
Trenton welcomes Susan Curry who has a smile for everyone.
—
Also, see our posting on Nancy Snellings, Edgefield's new Postmaster.