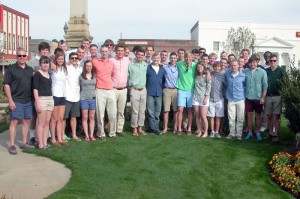 Hobart & William Smith Colleges rowing team came into the Town of Edgefield full force on Wednesday evening for supper on Buncombe St.  This was a special invitation they accepted from the family of a team member.
Hobart & William Smith Colleges is a liberal arts school on one of the Finger Lakes in upper New York State, and as one would expect, that far north the lake freezes in winter.  For their spring break they came down to Columbia to spend their holidays in spring training.
The team came in a caravan of six vans and a truck (that the 2 coaches rode in). The team of 40 arrived on the square at 5:00 p.m. for a photo shoot, and on to the Buncombe Street yard where there was a barbecue spread with all the trimmings, including pecan pie made just for them (and a request of theirs – they also requested sweet tea).
There are four women on their team and one young man who are coxswains – they are usually smaller in size and do not row, but handle the instrument on the boat called a "cox-box" and also steer by a rudder (the cox-box gives the information about the performance of the team). They added greatly to a large mix of young male rowers, all sizes, whose homes spread from Seattle to Serbia and lots of states in between.
August Wherry is the young man whose families issued the invitation – the Wherrys, Derricks and Throwers, parents and grandparents included – who fed them until they were full and sent the rest of the food back with them. The team is staying in a motel/hotel off 1-20 and near Broad River where they row each day.
They aren't likely to forget Edgefield, for the weather was perfect for outdoor eating.  As the sun went down they all gathered inside, and to the surprise of the hosts, someone was creating great music on the grand piano.  One of the rowers is a piano student, and among the pieces played were some of his own compositions.
A part of the "spring fever" was the variety of shaved heads among the group – from a tiger stripe design to a tomahawk.  According to the coaches, they do it each year as a way of letting go restrictions and enjoying the rowing, which they do diligently every day.
They pulled out of Edgefield just after 8:30 p.m.; their wake-up call is at 6:00 a.m. each morning.
Click a thumbnail image below to expand the gallery and scroll through the images.