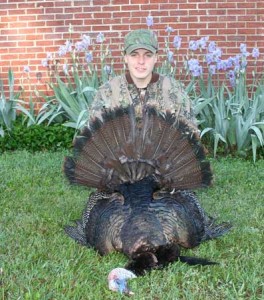 Dakota Quarles, son of Richard and Ginny Wall, pictured with his 19-pound turkey.  The bird had 1"spurs and a 10.5 inch beard.
Just in case you missed it his sister, Katie, harvested two turkeys with one shot weighing in at 20 and 17 pounds a few days back.
It is important that all know Dakota's turkey had the longest beard and spurs 1/16 inch longer than his sister's.