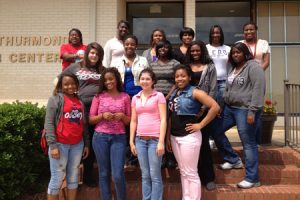 Eighteen Health Science students at Strom Thurmond Career Center have received their CNA (Certified Nursing Assistant) completer certificates following a year long intense training program. With their certificate in hand, these students are eligible to sit for the certification exam.
For students who are planning on immediate entrance into the workforce, their CNA certificate allows them to take their certification exam and upon passing it they may begin their duties as CNA. Fifteen students have already tested and are Certified Nursing Assistants.
Students pass National Health Assessment test
The Strom Thurmond Career Center Health Science program proudly announces a 100% pass rate on the National Health Assessment test. Upon completion of four or more credits in Health Science related classes, these students were required to take the National Health Assessment test.  This certificate program is offered by the National Consortium for Health Science Education. The test measures knowledge of basic skills and knowledge that workers in all aspects of the health industry need to know.