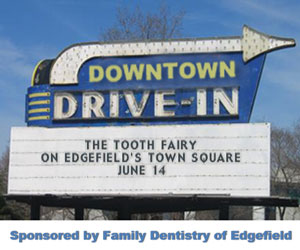 The Edgefield Community Development Association along with our special sponsor, Family Dentistry of Edgefield, invites everyone to our Downtown Drive-in movie night on the Square in historic Edgefield on Friday, June 14, 2013.
Bring your family, your neighbors, and your friends and gather around the Edgefield Square for the showing of "The Tooth Fairy." The movie is based on the idea, "A bad deed on the part of a tough minor-league hockey player results in an unusual sentence: He must serve one week as a real-life tooth fairy!" The movie is rated PG.
Come out early to enjoy the Jump House & Photo Booth! Plus FREE snacks, drinks & prizes! Events start at 7:30 p.m. & the movie will start around 8:30 p.m.  Remember to bring your lawn chairs or blanket and enjoy another fun-filled movie night under the stars.
The movie will begin at Dark with the Wells Fargo Bank Building again being the movie backdrop.
The Edgefield Community Development Association would like to pay special thanks to Dr. Cook & his wonderful staff at Family Dentistry of Edgefield for sponsoring the June 2013 Downtown Drive-in movie event. Come out and enjoy the fun!
Parking is available at the Discovery Center parking lot, the Dialysis Center, Edgefield First Baptist, and along the side streets of Edgefield.   Please make sure all dogs are on leashes and that they enjoy being around young children.
If you would like to sponsor a future movie night or have any questions, please contact Christy Pillars at (803) 474-8847.