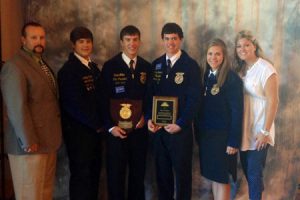 The Strom Thurmond Career Center FFA Farm Business Management team took first place honors in the State Farm Business Management Career Development Event (CDE) held at Clemson University on Thursday June 13, 2013 as part of the 86th annual South Carolina FFA State Convention.  Team members Trent Miller, High Individual Scorer in the state event; Scott Sherman, Second High Individual Scorer; Geddings Jhant, and Allie Jhant successfully outscored teams from high schools throughout the state.
The team was coached by Jeremy Brooks and Darla Steele, Agricultural Education Teachers and FFA Advisors at Strom Thurmond Career Center.
The contest consisted of a two hour written exam covering topics in marketing, income analysis, taxes, and general agricultural economics.  The South Carolina State Farm Business Management Career Development Event was planned and coordinated by the Agriculture Department at Clemson University. The team will now prepare for the national contest which will be held in Louisville, KY this coming October.
For more information regarding the agriculture program at the Strom Thurmond Career Center, contact Darla Steele or Jeremy Brooks at the career center, (803) 275-1767 or visit the agriculture program website at www.stromthurmondffa.com.