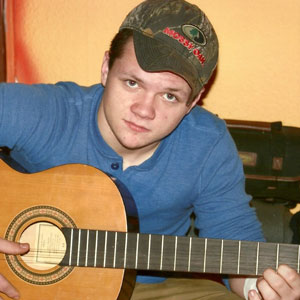 BATESBURG, S.C. – Waeland Peeples, 17, passed away Sunday, June 16, 2013. Funeral services will be held at 11:00 A.M. Saturday, June 22, at First Baptist Church of Batesburg with interment in Ridge Crest Memorial Park Cemetery with SCARNG Chaplain Col. Steve Shugart officiating. Active pallbearers are Dalton Peeples, Devon Peeples, William Janney, Michael Rodriquez, Dalton Oswalt, Steven Hildenbran, Cody Clark and Tim Roof. Honorary pallbearers are Sean Hatten, James Peeples, Johnny Wood, Brandon Stevens, Tanner Werts, Austin Peeples and the members of Batesburg-Leesville Panther Band.
He was born in Lawton, Oklahoma son of CWO Michael Ray Peeples and SSG Jennifer Donnelly Peeples. He was a rising senior of B-L High School. He was a member of the ROTC program with B-L and a member of the B-L High School Panther Band. Waeland loved the outdoors and his goal was to become a Department of Natural Resource Officer.  He also loved his friends, his family and his Jesus.
Surviving are his parents, and brothers, Pvt. Joshua Vivian and Ethan Peeples; paternal grandmother, Anna Stanberry; maternal grandparents, Mary Donnelly Hatten and Raul Rojasrevilla; and a number of aunts, uncles, and cousins. He was predeceased by a paternal grandfather, Herman Millard Stanberry.
The family will receive friends from 6:00-8:00 P.M. Friday, June 21, at Milton Shealy Funeral Home, other times at his residence. In lieu of flowers memorials may be made to Waeland Peeples Memorial Fund c/o S.C. National Guard FCU, P.O. Box 9366, Columbia, SC 29290. Milton Shealy Funeral Home & Crematory is assisting the family with arrangements. Condolences may be expressed at miltonshealy.com.