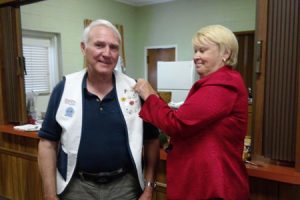 The Edgefield Lion's Club had its monthly meeting on Monday, July 8, 2013, in the Edgefield United Methodist Church Fellowship Hall.
Lion President Arlene Traxler welcomed members and welcomed the guest speaker, Mary Louise Resch, Lions Club Development Director, whom currently serves as the Director of Development for the Lion Foundation of South Carolina.  After spending nine years on active duty in the US Army, during which she received a Bachelor of Science Degree in Psychology from Excelsior College of NY, she pursued and received a Master of Science in Education in Community / Agency Counseling from the University of Wisconsin – Platteville
Since that time, Ms. Resch has spent over 25 years doing fund raising, grant writing and community advocacy for such diverse groups as Harvest Hope Food Bank, the SC Center for Family Policy, Communities in Schools – South Carolina and Town of Lexington, SC.  She has been responsible for raising an average of over a million dollars per year for the last four years from individuals, corporations, faith-based groups and foundations.  Ms. Resch currently resides in West Columbia and serves as the Division Adjutant for the SC State Guard, holding the rank of Lieutenant Colonel.
Awards include recognition as a National Point of Light by the Points of Light Foundation, Hettie Rickett SC Community Development Specialist of the Year Award from the Municipal Association of SC and the SC Prevention Specialist of the Year from the SC Association of Prevention Professional and Advocates.  She currently serves on several boards of directors of local and statewide non-profit organizations.
Ms. Resch gave an overview of the Lion history and happenings throughout the State and the many funds raisers.
The Lions have fundraisers for their clubs throughout the year to make a difference in the lives of South Carolinians each and every day.  In 2012-2013 alone, local clubs in South Carolina raised $137,076 that was used for over 100 eye surgeries, 150 hearing aids and almost 9,000 health screenings throughout the state.
Following the presentation Ms. Resch answered questions from the Lion members.
Lion Sam Watson was recognized for his outstanding brooms sales and was recognized and presented a Sustaining Members pin for the year 2012-2013 for his contribution of a minimum of $50 to the Edgefield Lions Club.
Afterwards Lion Carroll Wates gave a financial report with the Lions approving one eyeglass application.
The meeting was adjourned with the next scheduled meeting on Monday, August 12, 2013, at 6:00 pm in the Edgefield United Methodist Church Fellowship Hall, 309 Norris Street.   The public is cordially invited to attend and share in the meetings.
Lion Club brooms are available from Lion members throughout the year.
Submitted by Arlene Traxler