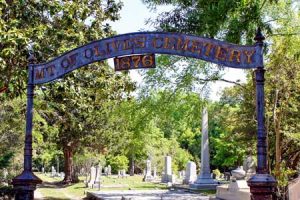 The wrought iron archway over the Mount of Olives Cemetery in Johnston, S.C., has disappeared. A beautiful, historic cemetery, where ancestors of some of the leaders of the Town of Johnston, many among the earliest settlers, no longer has the entry insignia, wrought iron with gold lettering .
This loss was noted by one of the cemetery committee. Marguerite Cassells, when driving through the cemetery a few days ago.
Anyone who may know anything about this disappearance, please notify the Johnston Town Offices: 803-275-2488.
UPDATE:
In the early afternoon, today, July 15, a call to the newspaper office resulted this information. The arch over the Mount of Olives Cemetery entrance has been found.  It is in safe keeping according to the Mayor of Johnston. The very old, wrought iron arch has been repaired many times, and it seems that another repair may not be the answer. "The sign will return, maybe not in its former form," said the Mayor.
The archway fell over two weeks ago.  A very heavy metal piece, it was difficult to move and has now been placed for "safe keeping."
The cemetery has a committee that has been raising funds for upkeep of the grounds and repair of some of the beautiful marble trimmings and gravestones. This seems another call for funding since this sign is at the entrance, and a special feature of these historic grounds. Anyone wishing to donate may call the Town Hall at 803-275-2488.