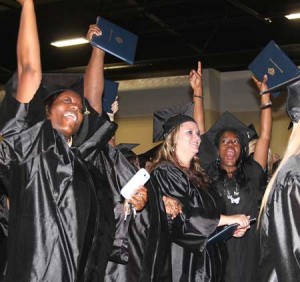 The James Medford Family Event Center at Piedmont Technical College welcomed more than 375 Piedmont Technical College graduates for two commencement ceremonies to celebrate their accomplishments.
Dr. Ray Brooks, president, welcomed graduates, family and guests to celebrate the accomplishments of the graduates.
"We are here to celebrate tonight the opportunity each of you represents," Brooks said. "You saw it, you took action and we are here to celebrate the completion of this part of your academic journey."
Brooks was followed by the commencement speakers. The afternoon address for business and information technology, public service, industrial and engineering technology graduates was delivered by two graduating students – Phillip Jenkins, a computer technology major from Ninety Six; and Karen Tisdale, a human services graduate from Greenwood.
Jenkins encouraged the students to begin their hero's journey, a journey of growth and success.
"We're going to make that journey from weakness to strength," he said. "For the rest of our lives, we will remember our journey from college graduate to successful professional."
Tisdale implored all of the graduates to not settle for being average, but to strive for excellence.
"I challenge you to say to yourself 'What is out there next that I can be great at?'" she said. "Whether it is volunteering, learning a foreign language or going to get our bachelor's, master's or doctorate, what is it that is going to take us to that next level?"
Speakers for the evening ceremony for Associate in Arts, Associate in Science, health science and nursing graduates were Farrah Edwards, an associate degree nursing major from Greenwood; and Holly Gosling, a respiratory care graduate from Abbeville.
Edwards congratulated her fellow students on achieving their goals of earning a degree, but encouraged them to continue to set goals.
"We must continue to set career goals and life goals. We must continue to strive for greatness," she said. "We must continue to strive to do better and be better. We must continue to dream and dream big."
Gosling challenged the graduates to become leaders in their fields by using the knowledge they gained at PTC.
"Each and every one of us has the training, the ability and the knowledge to go forth in our career and save lives," she said. "We are the future of health care."
Several graduates were recognized for highest academic achievement within their counties of residence.
The winners by their counties of residence and their majors were:  Abbeville: Kevin Claussen, industrial electronics technology and mechatronics; Edgefield: Henry Caines III, welding; Greenwood:  Steve Kesler, welding; Laurens:  Judy Hunnicutt, early care and education; McCormick: Anthony Quarles, industrial electronics; Newberry:  James Ellis, computer technology; and Saluda:  Jacqulyne Myers, pharmacy technology; and Collin Derrick, computer technology.
Presenting this year's graduates was Andy Omundson, dean of student services. Certificates, diplomas and associate degrees were conferred by Brooks and Susan Timmons, vice president for academic affairs, with assistance from board chairman William Whitfield; Evelyn Beck, dean of Arts and Sciences; Jerry Alewine, dean of health science; Tara Harris, dean of nursing; Lesley Price, interim dean of business, information technologies and public service; and Rusty Denning, interim dean of engineering and industrial technologies.
The macebearer was Bradley Griggs, faculty senate president. The mace was designed by members of the faculty and staff and presented to the college in 1991 by PTC's Alumni Association. Music was provided by Emerald City Brass. Rev. Phil Thrailkill, pastor at Main Street Methodist Church in Greenwood, delivered the invocation and benediction.
EDGEFIELD – *Rosalind Samone Booker, diploma in applied science, major in pharmacy technician; Jo Ashley Jordan, associate in applied science, major in nursing; and **Amy Monick Williams, certificate in massage therapy.
McCORMICK – *Patricia Gail Gilchrist, certificate in patient care technician.
NORTH AUGUSTA – *Henry June Caines, associate in applied science, major in general technology, welding concentration; Stephanie A. Sharpton, associate in applied science, major in nursing; and Connor Alexander Stanley, associate in applied science, major in funeral service.
RIDGE SPRING – Leslie Anne Wintrow, associate in applied science, major in nursing.
***Summa Cum Laude-4.0      **Magna Cum Laude-3.75-3.99        *Cum Laude-3.5-3.74