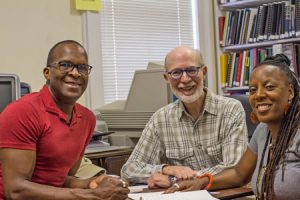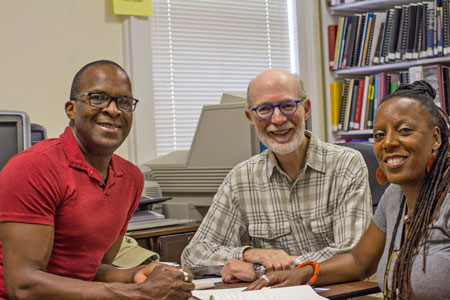 Vincent Thomas, a choreographer/dancer living in Baltimore, Md., was approached by a professor at the University of Delaware recently who asked him if he would be interested in doing a solo dance about Dave the Potter.  Imagine, knowing yourself to be from Edgefield and hearing a "foreigner" ask you such a question, to do a dance about someone from your hometown.  Well, not quite; Dave was from Pottersville, a village nearby to Edgefield, in Edgefield County. Vincent is certainly from Edgefield, the son of Mrs. Georgia Mae Thomas and Mr. Willie B. Thomas.
From this encounter of Vincent and Dr. Lynnette Overby evolved a trip to Edgefield of several people working on this project to bring Dave into dance, as well as poetry – Dave's world expressed through poetry and dance.  Working on the project at the Tompkins Library last Friday morning was Edgefield's Dave scholar Leonard Todd who joined with Glenis Redmond, poet in residence at the Peace Museum in Greenville, and Vincent Thomas, whose own company is VTDance of Baltimore, and Dr. Overby.  (Todd is not a member of the team but was offering his knowledge.) Another member of this exciting project is Dr. Gabrielle Foreman, professor of African American Studies at the University of Delaware.
There was a restless fervor, maybe better addressed as creative energy, in the Library as the press joined Michelle McCollum in interviewing – Michelle is head of the S.C. Heritage Corridor.  Mayor Ken Durham was also there to welcome these folks to Edgefield.
It intrigued the reporter just how Greenville got into all of this – certainly a poet from Greenville is appropriate to the process, but the connection to Dave had to be more than that. Glenis advised us that the Peace Museum owns eleven pots from Edgefield.  It is not known by this writer at this time whether all came from Dave, but that is a rather large representation of Edgefield Pottery, to say the least.
And it had totally slipped by everyone that our Dave scholar Todd actually calls Greenville home – he grew up there and went to high school in Greenville.  So, there, Edgefield need not feel she has to have the burden of producing all the greats of the world!
Now that our readership is informed, numbers of people will be awaiting the culmination of this creative endeavor. Would not a premiere of this artistic event be best held in Edgefield?