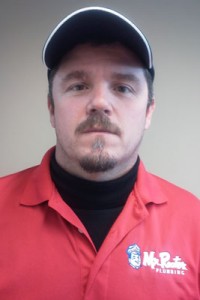 For Sherry Northgard, a call to the local Mr. Rooter® Plumbing company not only solved her plumbing issue, but saved her beloved four-legged friend, Dawnie.
"While I was diagnosing Mrs. Northgard's plumbing issue, I could tell that she was distracted and a little upset," stated Doug Baker, the plumbing technician sent to her house.
The concerned plumber found out that Mrs. Northgard's elderly Chow, Dawnie, was blind, hard of hearing and normally kept close-at-hand.  Upon hearing the distress in her voice, Baker began helping Northgard search the property for her pooch.
"We got out back and looked out to where the lake met her yard and Mrs. Northgard immediately started to panic," claimed Baker.
Dawnie had stumbled into the lake and was disoriented, attempting to swim back to shore, which only served to usher the dog further out.  The two began whistling and calling out from the beach, and Dawnie started swimming back inland. However, halfway home, she again became disoriented.
"Dawnie did a 180 and started to swim further into the lake.  The further out she got, the more tired she became and began sinking.  Mrs. Northgard immediately became frantic, so I did what anyone else would have done – I jumped in to save the dog."
Doug Baker swam out to the middle of the lake, successfully bringing Dawnie back to shore, where an ecstatic pet owner was reunited with her exhausted pooch.
"I have always known that Doug is not only a fantastic plumber, but also a kindhearted Christian who will go above and beyond to help his fellow man…or dog," stated Vince Russo, his manager.
As for Northgard, she is a cheerleader for Baker.  "It is a breath of fresh air to meet someone who cares about his job and the customers he serves.  I will call Doug whenever I have any sort of plumbing – or dog – problem."