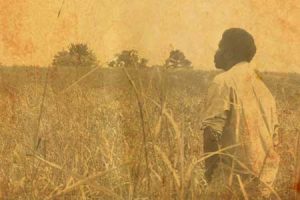 – Presented by the Savannah River Archaeological Research Program – 
Scrapbook Video Productions and the Savannah River Archaeological Research Program are proud to announce the release of the historical documentary film, Discovering Dave – Spirit Captured in Clay. The public is invited to attend a free world premier screening at 7 p.m. on September 10th, 2013 at the Etherredge Center, University of South Carolina, 471 University Parkway, Aiken, South Carolina.
The documentary revolves around the story of the Edgefield, South Carolina slave potter named David Drake who used his skills as a craftsman to create beautiful pottery during the turbulent 1800s. Producing thousands of pots in his lifetime, remarkably, Dave also wrote poetry and signed many of his vessels. The story is a testament to his will to be heard and leave his mark for the ages even at risk of severe punishment.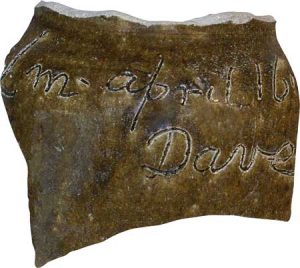 Produced by filmmaker Mark Albertin of Scrapbook Video Productions and archeologist, George Wingard of the Savannah River Archaeological Research program over a period of two years, the film gives insight to the man known simply as Dave, through in-depth interviews from artists, scholars, writers, historians and archaeologists.
Mark Albertin has produced numerous historical documentary films, most recently, "Displaced – The Unexpected Fallout from the Cold War" and "War Stories – Augusta Area Veterans Remember World War II."
George Wingard is an accomplished archaeologist who, with his team at the Savannah River Archaeological Research Program uncovered a "Dave" vessel in 2006, giving inspiration to produce the film highlighted in this release.
—
Discovering Dave Movie Shown in Edgefield
"An outstanding event," according to one Edgefield County Historical Society attendee, "Standing room only." The Society sponsored the premier showing of the film "Discovering Dave" on Saturday evening at the PTC auditorium. Everyone questioned gave high praise to the movie.  "It was the best production about Dave I have ever seen and Edgefield was well portrayed," says the attendee.   "It was factual, informative and entertaining plus the music accompanying  the movie was beautiful.  George and Mark [producers] did an outstanding job."  Following the showing, which was one hour long, a champagne reception was held with "toasting and good cheer." A review of the film will follow in the September 18 edition of next week.
—
Have something to say? Leave your comments below.