Barbara Nelson, SPCA CEO, was moved positively after the article by Kim Walker (Donkey Lore) of last week; the following announcements came with emails on Monday of this week.  Ed. Note
The Edgefield SPCA Treasure Chest will now be open Saturdays from 10 a.m. to 5 p.m.  Hours will be Tuesday through Saturday, 10-5, just like all the other SPCA Treasure Chest stores. "Strong local encouragement and the support of the CEO Barbara Nelson allowed us to make this change," reports manager Martha MacDonald.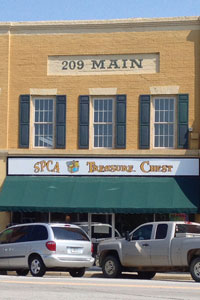 "We would like to stay in town, help Edgefield lower the number of homeless animals, and support the town and county," said Mrs. Nelson.  "We tried opening this past Saturday and were thrilled by the number of people who stopped in without any previous notice."
"Many, many thanks to the ladies," was a gleeful note from Mrs. MacDonald. She will be the fulltime manager. Community members are encouraged to continue donating to the shop especially in this season of multiple yard sales and festivals. Anything not sold locally will be distributed to the Treasure Chest shops in Aiken and North Augusta.
The manager's statement: "We so much appreciate the support from the citizens of Edgefield and surrounding towns."