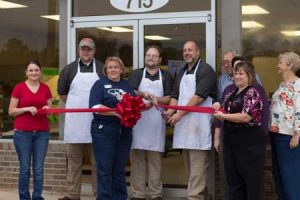 The Ole Edgefield Butcher Shop cut the ribbon today to open wide its doors for the citizenry to enjoy a new place to shop for meats, in Edgefield.
The shop is located at 715 Augusta Road (across from McDonald's) where Robert Brazell,  and his son-in-law Eric Hutto, have been busy readying the building for fresh meats (and some groceries, we understand).  Their specialty will be steaks, roasts, ground beef, ribs, chops and all those cuts that entice the meat-eaters.  Also turkey and chicken are on their menu.
The Brazell family is well known for feeding the communities of this area through their businesses, in the past.  This new business is a welcome sign of continuation of that talent.
Eric and Robert offer their hospitality in friendly Edgefield (according to their ad in
The Advertiser 
where open hours are listed). You may call 803-336-4665 or email: 
ole.edgefieldbutchershop@gmail.com.