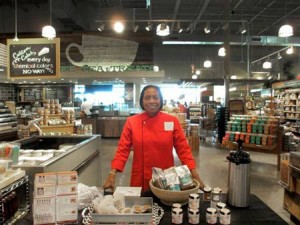 Chef Belinda (Belinda Smith-Sullivan) between Aiken, S.C. and Augusta, Ga., is opening up new markets for her gourmet spice blends among the finest possible company – the kind of folks you'd like to move in next door to.
After an 'apprenticeship,' manning a table outside the store, Chef Belinda made it to the shelves of the very high-end Whole Foods store in Columbia on Oct. 23, and she couldn't be more thrilled.
That is, until her next major accomplishment.
"This is a huge jump for my business," said Chef Belinda after her first day of meeting customers with her products inside the Columbia Whole Foods market. "They are such a well-respected and reputable company nationwide and to be associated with a store like that is exactly where I'm trying to take my business."
Already renowned in the Aiken/Augusta area for over five years for her personal chef services and her incomparable event planning and hosting, she opened up her own "on-line line" of spice blends about three years ago to rave reviews – and sales – at www.chefbelinda.com.
Chef Belinda imports her "raw" spices from around the world and then mixes them up in her "top secret" formulas, she says in describing her passion for flavor.
"I market my blends as an 'artisan' product, meaning I mix them in small batches so the freshness is not compromised," she explains. The mixing and packaging are an art, combining exotic and very fresh spices from many sources she has developed across the globe. Chef Belinda is a graduate of Johnson & Wales University with highest honors in Culinary Arts. She is certified in Wine Studies from the Culinary Institute of America in California's famed Napa Valley.
She is getting so successful at her marketing, no doubt due to the quality of her product, that those "small batches" might require some help soon as Chef Belinda's spices catch on with good cooks around the area and the country.
Since opening her on-line store of four spice blends, she now has 11 and was recently invited to display and sell them on OpenSky network,  https://www.opensky.com/chefbelindaspices, an online mall of high-end stores and products, giving her much wider exposure to stylish cooks everywhere.
"If you go to OpenSky, you will see hundreds of stores. A lot of extra traffic is directed to my store being affiliated with OpenSky," she said.
That has been a big accomplishment, but making it to the shelves of the Columbia Whole Foods market was a significant commitment of her physical presence for several months.
"I'm a member of the South Carolina Specialty Foods Association and met representatives of Whole Foods at our annual meeting, where we talked about how we could get our products into their stores, which is a extensive process," Belinda recalled last month on her day of triumph.
"It was so daunting, so much paperwork, but I worked through it with their local vendor liaison Kat Mooney-Cantey, and she recommended me up the chain. Once you begin the approval process, local vendors are invited to set up booths outside the store on weekends. I made many repeat customers and was finally approved to move into the store. This was the one-year anniversary of the opening of the Columbia store so there were many customers attracted by their promotion," she explained.
"This was my first time in the store, interacting with customers and I think it went great. In fact, to me it was electric, being in the store, being on the shelves, talking to customers, giving samples for them to taste and having great conversations about spices and what they care about. It showed me there is a bigger market for my products than I ever imagined. There were many more young people than I expected. Everyone said they see my products as something innovative, something no one else is doing. I guess I'm ahead of the curve in that way!"
"Oh! You are Chef Belinda!"
"Many people recognized me from my banner. They would walk up and look twice and then say, 'Oh are you Chef Belinda!' They are just happy to meet you because you developed the product. I have recipe cards that go with all the spice blends and I didn't understand just how important that was. It gives them the confidence that they can take this home and do it themselves."
All her products are certified through the South Carolina Department of Agriculture, which allows her to display their "Certified S.C. Product" logo as a symbol of safety and authenticity. "That is something for which you have to be recommended and earn. It is highly sought after. It shows the product is produced under the highest standards and is something consumers can rely upon."
It may not surprise that Chef Belinda has further plans.
She is currently in only the Columbia store, but managers at the other two South Carolina Whole Foods stores, in Charleston and Greenville, are about to hear from her. As for the location announced for fall 2014 in Augusta, "You can bet I'll be talking with them."
Contact Chef Belinda (Belinda Smith-Sullivan) Chef Belinda Spices at 803.552.6450 and belinda@chefbelinda.com. Read her Flying Foodie blog – she is a pilot and lives on a private airport in Trenton, S.C. with her plane in her oversized garage/hangar – at flyingfoodie.blogspot.com. See all of her services, including Chef Belinda Spices at www.chefbelinda.com.