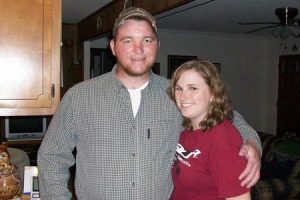 Wesley Spires and Ashley Solesbee to Wed
 – By Tiffani Ireland –
For Wesley Spires and Ashley Solesbee, May 3 will forever be a date etched into their minds.  It was on this date last year that the two were viciously attacked while on a date at the River Walk in Augusta, Ga.  The attack, by two thugs wielding metal baseball bats, left both severely injured; Wesley receiving the most serious damage to his body.  He spent weeks in a coma recovering from extreme head trauma and months rehabilitating from the effects of his injuries.  But, recover both Wesley and Ashley did.  And now, the two are not content to just recover; they aim to reclaim.  Having restored their lives and having seen their relationship blossom into a true love story, the pair are now also reclaiming that fateful date, as May 3, 2014, will be their wedding day.
As Wesley said in an interview he and Ashley gave to The Advertiser this past week, setting the date of their wedding on the one-year anniversary of the attack is a "good way to turn something bad into something good."  In fact, to have their wedding on this day was Wesley's idea.  He's determined to not let this tragedy claim and define his life.
Introduced by mutual friends, the couple had just begun their love story when it was sidetracked by the attack.  In interviews given by Ashley while Wesley was still in the hospital, Ashley called him her hero.  Through it all, her hero remained her boyfriend, and, in true fairy tale style, adversity could not stand in their way.  Like a hero in a Disney movie, Wesley slew the dragon (his injuries) and made his way back to his true love.  And as any good hero would do, Wesley remained the valiant one when he decided Ashley was the one for him; he went to her father and asked his permission to seek her hand in marriage.  Permission was granted.  From there, this white knight whisked his beloved away to a romantic mountainous local and, while ascending a mountain in Gatlinburg, Tenn., proposed to his fair maiden.  She said yes!
And what could make this fairy tale any better?  Fairy godmothers, of course.  And this pair has quite a few.  While not naming names, the couple told of the generosity of so many who have aided in their preparations for their wedding, taking a lot of worry and stress off these young love birds.  Admittedly not far into their wedding plans — although she does have her dress — the pair are clearly excited about starting their new lives together.  And this year, May 3, a date that will live in infamy for the couple, will become a date Wesley and Ashley will remember for far better reasons.  It will now serve to mark the beginning of their happily-ever-after.  Who says happy endings are only for the movies?