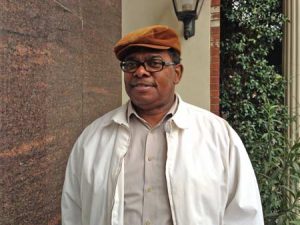 Michael John Key of Hardy Place Road, Johnston, dropped by the Advertiser to talk about his candidacy for the  County Council seat in the third district.  As for where the third district is, he says he lives in the middle of the area that it covers (and has lived there for 15 years).  He will be seeking the seat that Dean Campbell holds now.
At age 64, Mr. Key is retired from Graniteville/Avondale  Mills after 25 years of working there.  His wife is also retired.  He was a shift manager and had already retired when the chemical spill of 2005 wreaked havoc.
Some time after his retirement, he answered the call to the ministry, and now serves as pastor of Young Piney Grove Baptist Church, Trenton. He was ordained in 2007.
Mr. Key attended schools in Edgefield County and graduated from W. E. Parker High School in 67.
Mr. Key has been an active member of Peerless Masonic Lodge No. 214 in Saluda since 1975; he is an active 32 Degree member of the C. C. Johnston Consistory no. 136 in Columbia; he is a 33 Degree Prince Hall Affiliation Scottish Rite of Freemasonry.  As a Mason, he has been a past Wishful Master and Senior Warden.
Candidate Key states in the information he brought to the newspaper's attention that if he is elected, he will welcome the opportunity to serve as a member of the County Council. "I believe it is my duty to take an interest in how my community and county operate. I also believe that being an active member in a person's community is very important."
When asked about his strong interest in the Masons, He answered: "I saw Masonic brothers helping someone and it interested me.  I was in my teens at the time." And so he sought to join with the "brothers."
He is happy to announce that his church will celebrate its 143rd anniversary in May.
He is married to Betty Jean Williams Key and they have five grown children, four daughters and a son.