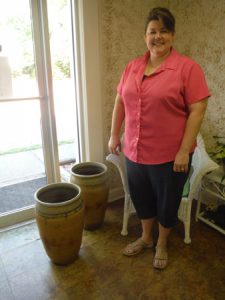 Michelle Clark of Johnston is the "Doggone Potter," (her words as well as ours) because at some point her passion for caring for dogs and her passion for producing pottery merge, and they do so with all the bowls she makes for dog feeding.  Michelle owns "Clarks Cuts and Kennels" in Johnston, a thriving business since October 2003; she also has a pottery business yet unnamed, but she calls herself the "doggone potter."
(And this doggone potter has studied several years at the Piedmont Technical College Pottery Center, staring with Klontz and now with Thomas Koole.)
And this is not the whole story of dogs and pottery: one of her most energetic employees in the dog business ("Cuts and Kennels") is fellow potter Diane Miller.  She and her husband Tim have the Miller's Pond Pottery, also a Johnston business.
The concentration, at the moment, is on Michelle who is, along with the Millers, a Johnston based potter and attention is being drawn to potters, this weekend of the Peach Blossom Festival, as an enhancement to the festival, not detraction.  There is a three-day pottery tour going on, before and after the festival, for folks to visit a number of pottery studios in getting to know potters of the Greenwood-Edgefield area.
Michelle shows her products usually at her dog grooming business on Calhoun Street in Johnston; however, her works for the Pottery Tour this weekend will be found at PK Pottery (owned by Pam Kadlec), 720 Plum Branch Rd., Edgefield.  For those wanting to tour these pottery sites where instruction and entertainment will be, there are four other sites: pARTners in CLAY at Wyatt Farms in Greenwood; Bell House Potter in Ninety Six; Turtle Rock Pottery in Edgefield, Meeting St. Rd.; and Old Edgefield Pottery in downtown Edgefield. (For more info click ad on Home page or call 804-388-0079.)
In this interview, done last week, Michelle told us how she developed her passionate interest in taking care of dogs and made a business of it, after having some experience working as a groomer of dogs.  It was in 2003 that she opened this business that houses dogs while they are being groomed as well as sheltering them when owners are away.  On this day, a beautiful German shepherd pranced in and joined others in the back of the shop, including a sheep dog.  (There were numerous others in their cages waiting patiently for a feel-good experience, as seen in the response of Diane's work on the dog in the photo.)
Every customer, whose dog passes into the back, grooming area, gets a look-see at the beautiful pottery placed on shelves in the waiting room.  A sign on the shelves reads: "All Pottery by Michelle Clark, AKA the "Doggone" Potter. . . I hope you enjoy your piece as much as I enjoyed making it!"
Her taste has moved from large to small and back to large.  Here we mean the size of the wares she produces.  Bowls are small, or regular, in size, but the two pots in her doorway (magnificently executed, this writer's opinion) were made early in her "career" of potting. And now, waiting to dry and to be fired, is an even larger specimen that she believes will be a water garden for her waiting room. Imagine the size: about 22 inches wide at the base and add a few inches in width at the "mouth," and then picture three feet tall.
It must be said that John Clark, Michelle's husband, is not a potter but he supports her in her art; he actually works on her kiln and keeps things running for her.  He also is active in the Cuts and Kennels when needed.
What the reader is hearing about is just a small example of what can be found on this pottery tour. The reader may call any of them – they are in the phone books – to know where and how.