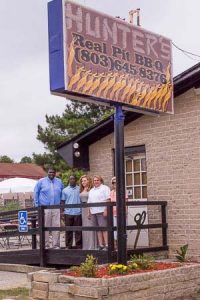 Hunter's Real Pit BBQ held at ribbon cutting ceremony, Friday, June 6th @ 11:00 AM to open their business at 259 Lee Street, Johnston, SC.  Formally the PK Restaurant, the Hunter's have spruced up the building with a new handicap ramp, flowers, and a new paint scheme to welcome their guests.  Grand Opening Menu included Pulled Pork Sandwiches, Pulled Pork Plates, Chicken Plates, and Rib Plates with sides.
Mayor Terrence Culbreath welcomed the new business to Johnston and the Edgefield County Chamber of Commerce sponsored the ribbon cutting. " Welcoming a new business to town is great", says Donna Livingston, Administrator for the Chamber, it's one of our goals.  Family and friends where on hand to say Welcome.  People were waiting in line for some good old fashion pulled pork BBQ, etc. (the smells from the pit were bringing the folks in)
The Chamber asks that citizens "Come out and support this new establishment."  Their full menu will be available starting Wednesday, June 11th.