OPINION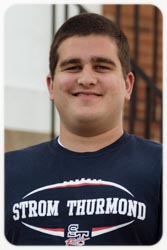 – By G. Miller Thompson –
While we all are awaiting an important midterm election this coming November, we must not forget about the magnitude of the 2016 presidential election cycle. President Obama has 919 days left in the White House and then the American people will choose his replacement. Many names are being floated, but there is one that has really caught my attention: Dr. Benjamin Carson.
When I returned home from Clemson for the summer, I was fortunate to take an intern position with the National Draft Ben Carson for President Committee. The Committee was established in August 2013 and has since raised over $7 million from tens of thousands of individuals from all corners of the country. Dr. Carson is still debating whether or not he will officially throw his hat in for the 2016 race. He has said, however, that he will pursue the White House if he feels led by God and he knows the people (that's us) really want him to. In addition to our impressive fundraising efforts, the Committee also has an extremely important national petition making its rounds. To date, approximately 300,000 proud Americans have added their name to let Dr. Carson know of their support. Each week we send him approximately 4,000 new names. The people are speaking, and they are speaking loudly! If you would like to be a part of this movement and sign the petition, visit www.runbenrun.org where you can sign the petition and get great information on the Committee's efforts.
My job requires me to travel around giving speeches on behalf of the Committee at various events. One question I always get is, "Do you really think Dr. Carson will run?" My answer every time is, "Absolutely!" At first Dr. Carson showed little interest in involving himself in the toxic world that is politics. As time has progressed, his interest has certainly been increasing. Dr. Carson has appeared on various news media networks where he has been pressed on the issue of 2016. With each new appearance, the idea of being the forty-fifth president of the United States seems to be growing on him.
What originally drew me to Dr. Carson is his opposition to political correctness. I wholeheartedly agree with Dr. Carson that political correctness has no place in the public arena. Substantive debate is a cornerstone to American society. A Carson White House will ensure this tenet of our nation does not erode in the floodwaters of a chaotic world. In his new book, One Nation, he wastes no time dealing with the issue of political correctness, attacking the botched idea in the first pages.
Many folks raise concern over Dr. Carson's lack of experience in the political sphere. It is true that he has never held political office. It is also true that Dr. Carson has no experience voting to raise the debt ceiling, excusing reckless spending. He has no experience lying to get votes. He has no experience apologizing for America's greatness around the world nor does he have experience ignoring the Constitution.
Ben Carson is the man for 2016. If you have not heard of him, please take some time this week to learn what you can. Start with the video from his speech at the 2013 National Prayer Breakfast and then check out his 2014 CPAC speech. When you have finished those, visit the website where you can find some FAQs and other information. The upcoming midterms are important, but so is 2016. Dr. Carson's leadership is step one to restoring the grandeur of our nation.
—
The views and opinions expressed here are those of the author and do not necessarily reflect those of The Edgefield Advertiser.
Have something to say? Please leave your comments below.