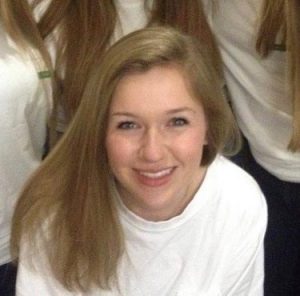 MT. PLEASANT, S.C. – Virginia Elizabeth Gilliam, 18, daughter of Herbert W. and Susan Platts Gilliam, and a student at Clemson University, died Sunday, August 24, 2014. The relatives and friends of Virginia Gilliam are invited to attend her Funeral Service on Wednesday, August 27, 2014 in The Church at LifePark, 1151 George Browder Boulevard at 4:00 pm. Interment will follow in Mount Pleasant Memorial Gardens. The family will receive friends Tuesday, August 26, 2014 in the Fellowship Hall of Mount Pleasant Presbyterian Church, 302 Hibben Street, from 5:00 pm to 7:00 pm.
Our precious, little sweet Virginia. You tugged at our heart strings from the time you were born and especially during these last few days. Our memories of you playing with bugs and animals as a child to your love of singing, Clemson Football and Sammy Watkins, will be with us forever. You were our cream in the middle adoring both of your sisters. Your sweet spirit touched so many lives and your constant smile brightened everyone's day. 
Virginia had a passion for music, being in involved in the Wando High School chorus where she was selected for All-State chorus for three years. Her favorite part of the chorus was a trip to Italy last summer where they sang in St. Peter's Cathedral in the Vatican and being selected to sing for ACDA. She enjoyed swimming on the Hobcaw Swim team for 13 years and working as a lifeguard. She had a passion for working with special needs children as this was her chosen major at Clemson University. 
Virginia lived her life full of innocence and saw the world through the eyes of a child. Her contentment with who she was is something in today's society that is unique and inspirational. 
She is survived by her parents, Herbert and Susan Gilliam of Mount Pleasant, SC; and her sisters, Sarah Katherine Gilliam and Anna Grace Gilliam, both of Mount Pleasant, SC; maternal grandparents, Mr. and Mrs. Francis Holbrook Platts of Hampton, SC; paternal grandmother, Patsy Lominick Gilliam of Edgefield, SC; and great grandparents, Virginia and Ellis Dobson of Hampton, SC.
Memorials may be made in Virginia's name to Mount Pleasant Presbyterian Church, "Youth Ministry," 302 Hibben Street, Mount Pleasant, SC 29464 or The Church at LifePark, "Youth Ministry", 1151 George Browder Blvd., Mount Pleasant, SC 29466, Wando High School Chorus Music Booster, Inc., or "WHSCMB",1000 Warrior Way, Mount Pleasant, SC 29466 or Clemson University Foundation, P.O. Box 1889, Clemson, SC 29633.
A memorial message may be sent to the family by visiting our website at www.jhenrystuhr.com.