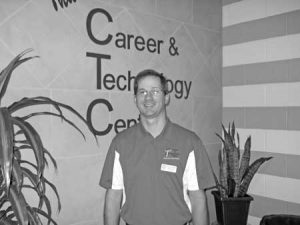 Strom Thurmond Career and Technology Center's new Project Lead the Way (PLTW – Engineering) teacher is Scott Johnson.  Mr. Johnson attended the Intro to Engineering course training in July at the University of South Carolina. "The PLTW curriculum and training are great" said Johnson.  PLTW is the nation's leading provider of Pre-Engineering programs. PLTW's world class, activity, project, and problem based curriculum and high quality teacher professional development model, combined with an engaged network of educators and corporate partners, help students develop the skills needed to succeed in our global economy.
All PLTW programs follow the activity, project, and problem-based approach to learning. The curriculum is collaboratively developed and consistently reviewed and improved by PLTW staff, teachers, university educators, industry experts, and school administrators. It leverages an innovative, project based approach, providing an opportunity for students to understand the lessons in action, solve problems, collaborate, and build critical thinking skills. "We are so fortunate to have Mr. Johnson on our staff. There are many PLTW programs in the state that do not have engineers as teachers" said Northrop, STCTC Director. "Mr. Johnson is preparing students to enter collegiate engineering programs and the kids can earn a college credit if they score high enough on the end-of-course exam"
One of the most unique aspects of the PLTW model is the engaging, rigorous professional development. Project Lead The Way's Core Training focuses on preparing teachers with the content knowledge and pedagogical skills necessary to get students engaged in learning the Science, Technology, Engineering, and Mathematics (STEM) disciplines and focused on seeking solutions. The three phase professional development program is conducted in partnership the University of South Carolina' Engineering School
Nationally, PLTW has outstanding partnerships with leading corporations and philanthropic organizations including Chevron, Lockheed Martin, the Kern Family Foundation, Autodesk, 3M, Amgen, Bemis Company, Cargill, the Dart Foundation, General Motors, John Deer & Company, Eli Lilly, the Louis Calder Foundation, Pentair, Rockwell Automation, and SunPower.