Will Potentially Bring 10-12,000 Annually to Edgefield
– By Tiffani Ireland –
"If you build it, they will come" was the theme expressed as The Advertiser sat down with the CEO of the National Wild Turkey Federation, George Thornton, and NWTF Facilities Manager, Ken Durham, Wednesday, Sept. 17, to discuss what the NWTF is planning for the future. For some time now, rumors have been swirling and plans alluded to in other reportings of projects in the works by the NWTF and what those projects might mean for Edgefield County. So just what is the NWTF building and who is going to be coming? Well, as Mr. Thornton put it, "We're expanding operations here in Edgefield County." And let's just say, based on his elaboration of those expansions, they expect quite a few people to drop in.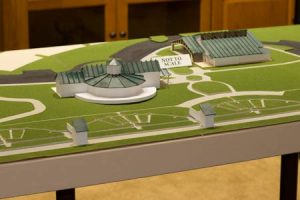 Mr. Thornton said part of the NWTF's expansion efforts began by enlarging their campus from 130 acres to 700. But enlarging, as stated, was just the beginning. Next comes the building, which will encompass that extra acreage. Three hundred of the 700 acres will be used to build a shooting complex. The Palmetto Shooting Complex, as it is being called, is in part being made possible by a partnership between the NWTF and the SC Department of Natural Resources which is contributing $2 million toward the project. The remaining 400 acres will be dedicated to administrative needs and an education center currently being designed under the working name of the Hunting Heritage and Outdoor Education Center. At this center, there will be an 8,000 square foot open-air pavilion and classroom. In it will be a catering kitchen as well as support facilities. In addition to the pavilion, this site will also include a 6,000 square foot roundhouse. The roundhouse will include a retail area, an observation room that will look out onto the shooting ranges, conference and administration space, outdoor seating, and a VIP suite. However, these two projects only scratch the surface of all that is actually going to be built behind the national headquarters of the NWTF's current location on Augusta Rd in Edgefield.
At the shooting facility, there will be 5 trap and skeet fields, three 18 station sporting clay courses, rifle and pistol ranges, shotgun games, waffle and flurry traps, a 3D gun course for competition, an 18 station 3D archery course, and special courses for sanctioned archery competitions. There will be a pond for canoeing, kayaking, and other boating activities, hiking trails and camping areas, and an observation deck. Oh, did we mention the RV camping sites and 16 cabins? The cabins alone will be able to accommodate around 120 people. There will also be special parking areas as well. In short, the NWTF is building a hunting and outdoor enthusiast's paradise.
All of these projects are broken down into phases. Phase I has already begun and includes the pavilion, roads and infrastructure, trap and skeet fields, and sporting clay courses. Phase II includes the rifle and pistol ranges, the 3D gun courses, the 3D archery and sanctioned archery courses, the residential cabins, and the RV camping facilities. But just like a cheesy games show hosts might say, "We're not done yet." There will also be a Phase III that will include an amphitheatre, a zip-line, and a ropes course.   And guess what? All of this will be open to the public. In fact, Mr. Thornton said Phase I is expected to be ready for use by the first quarter of next year, and the entire project should be completed by the end of 2016.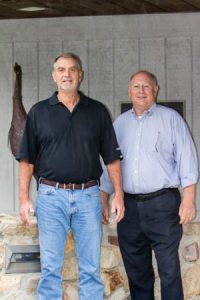 All of these new hunting and outdoor activities will not be the only things available to the public at the new site. The NWTF plans to offer educational day camps, residential camps, internships at the undergraduate and graduate level, and adult continuing education for hunters' education teachers and governmental employees in conservation agencies. Aside from all of this, these facilities will also be used to host a number of competitions. The NWTF has already scheduled some of these contests and is moving their own sporting clay competition here next August. (Currently held in Georgia, it draws 600 shooters and about 1,000 additional people each year.) They will also be hosting the SC DNR Youth Sporting Clay Championship which had 600 shooters in attendance last year. And for all you Bone Collector fans, Michael Waddell of the hit television show was at the NWTF on Monday and committed to doing a Bone Collector Tournament sometime next year. Early talks have this tournament possibly including a 3-event style competition featuring archery, shot gunning, and rifling, and it will all be filmed for tv.
As for what all this new development at the NWTF could potentially mean for the economy of Edgefield County, Ken Durham said, "I'm excited as mayor," and added, "It's like a gift dropped in our lap." The NWTF estimates that hosted events alone will draw about 10-12,000 people to Edgefield yearly, and the NWTF is hoping to hold at least one large event a month. Aside from all the expected visitors, Mr. Thornton said that whenever possible, the organization is using local subcontractors during the construction stages. He also said that with the new additions, there will be a minimum of fifty new local jobs created but added that number could easily be "well over 100, two-three years out." The NWTF is spending $12 million itself on the expansion efforts, but it was evident by both Mr. Thornton and Mr. Durham that they believe this is money well spent.
As construction moves along, the NWTF remains open for business. The museum, which has been expanded and now includes along with its state-of-the-art animatronics, a simulated helicopter ride and shooting games, is also still open to the public. For times of operation, please call the NWTF at 637-3106.