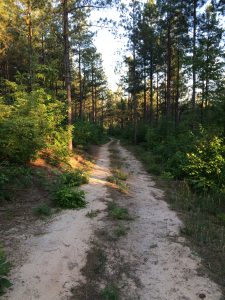 I want to continue my theme that most of life's issues are "non-respecter of person issues.
One afternoon this week I travelled down an incomplete road. Indeed, this time three years ago, this road did not even exist – except in my head!
Back then, when it was still just in my head, the road was about 150 feet to the right, down the slight slope. After speaking with someone more knowledgeable than myself, I altered the plan for the road a bit, then we went to work!
As I observe the foliage coming in, honestly I am a bit discouraged, because I am not as far along in the productive use of this land as I would like to be.
I am however encouraged because God has still provided me breath and strength to press on toward the goal. Press on, I will.
I can't help but think of the millions of people discouraged right now, for one reason or another. It could be health, finances, concern over a loved one, a business, a marriage – or heaven forbid, civil governance!
Whatever discouragement YOU may face right now; I encourage you to press on. God has a perfect road for each of us. Sometimes it moves a little bit from what WE think it should be, and often HIS pace is not our pace. The point is – keep on keeping on!
Hebrews 12:1 "Therefore, since we have so great a cloud of witnesses surrounding us, let us also lay aside every encumbrance and the sin which so easily entangles us, and let us run with endurance the race that is set before us."
I hope you have a blessed week!
Scott Cooper