Swine Dining of the Carolinas
2006 E. Martintown Road
Clarks Hill, SC 29821
Thursday – Saturday: 11a.m. – 9 p.m.                                                  Sunday – 11 a.m. – 3 p.m.
803-613-6262
Take out and Catering available
"Swine Dining of the Carolinas" is located in the heart of the Merriwether section of Edgefield County next to the well known gas station of that area, Sportsman's Corner.  The Culinary Critics would like to begin this review of Swine Dining on a cautionary note — its parking area leaves a little bit to be desired.  The front area is quite tight, but additional parking is available on the sides and rear, and we would suggest using either of these alternate sites.  The outside of building, which has served to house many other restaurant attempts of late (none of which have lasted very long), features a large shack-like appearance which belies the clean, rustically charming, outdoors inspired interior.  Accented by tongue and groove walls and ceilings, the restaurant has a cozy, country feel.  Adding to the warm, Southern charm are the cheerful greetings given to patrons as they enter the eatery, and the aroma of cooking bar-b-que wafts through the air teasing, no doubt, all those living in the nearby neighborhoods.
A large spacious dining area takes up most of the floor space and serves as the main dining section.  Here are 6 amply spaced tables for 4.  There is also a long wooden booth in this area in front of which are spaced 4 tables with two chairs.  This booth not only serves as added seating but also to divide the main dining section from the pick-up area for takeout orders. Two televisions posted high on wooden beams are in the center of the room.  A small bar-type area to the immediate left, upon entering the restaurant, is also available for seating.  Here is located a long bar table with 7 seats overlooking the parking area.  There is also a television in this area and 2 tables for 4.  Additionally, there is what appeared to be an outside eating area with two wooden picnic tables off the back of the restaurant.
The tables in the main dining area are left uncovered, and their shiny, wooden tops add to the country feel. On the tables rest plastic utensils wrapped in napkins, a roll of paper towels (customers need these!), and salt and pepper containers.  In the back of the restaurant sits a small formally set table covered by a white tablecloth.  On it is a vase with a single rose, a place setting for one, a purpleheart medal, and small MIA and POW flags.  After asking, the Culinary Critics were told this table waits in honor for those Missing in Action and Prisoners of War; a sort of welcome home.  A very neat and patriotic touch.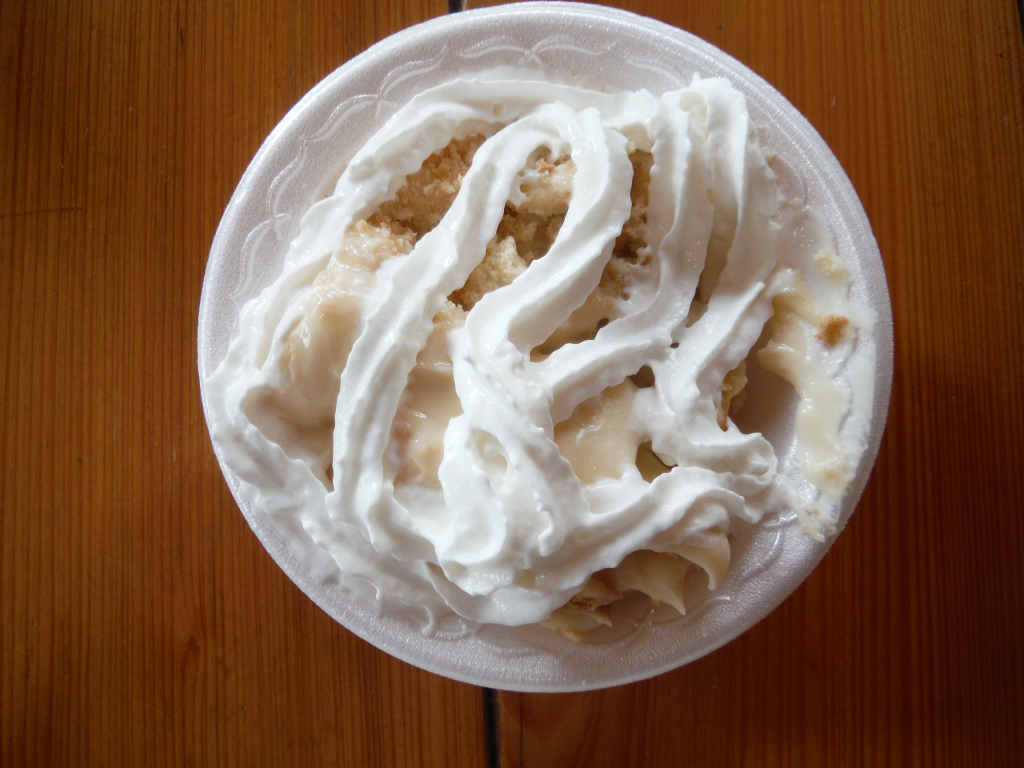 Ambiance aside, the Culinary Critics know the true interest in this restaurant rests in its bar-b-que.  Well, let us say to all those who have been accustomed to driving to a better known restaurant a few towns over — travel no more.  Good bar-b-que can now be found in Edgefield County.  And not just good.  One of the Culinary Critics, having spent a fair amount of time in the Lone Star state where bar-b-que is quite revered, declared Swine Dining's bar-b-que sandwich to be the best had in these parts.  This is due in no small part to the smoked taste which was nearly perfect; not too heavy and not nonexistent (as is often the case).  It was also incredibly tender and juicy.  And there was plenty of it!  It was one of the biggest sandwiches we have eaten.  As for sauces, there are three available; a mustard based, a tomato based, and a sweet heat.  We tried them all and our favorite, hands down, was the sweet heat.  However, do not be fooled by its name.  It is not spicy or hot at all.  In fact, we thought it could use a name change.  Perhaps Best Bar-B-Que Sauce Ever might work.  It was that good!  Along with our large bar-b-que sandwich (a small is also available), we also ordered the rib plate which came with three sides.  We chose potato salad, baked beans, and hash over rice.  Bar-b-que sandwich plates come with 1-2 sides, and we had macaroni and cheese and French fries with ours.  After all, the male of our pair pointed out, when you're eating bar-b-que, you're not in it for your health.   And while it may not have been healthy, it sure was tasty!  The ribs, which were good and came covered in there own sauce, were made even better with the sweet heat sauce. The baked beans, while they did not look all that special, were awesome.  The hash is red and spicy — a different taste on a Southern staple.  The macaroni was cheesy and moist, and the potato salad was lightly sweet.  The French fries were good, but, to be honest, we have not met many French fries we didn't like.  And what else would top off a meal of bar-b-que and ribs but some good ol' banana pudding?  The banana-to-pudding ratio was good (not too many bananas), and it was sweet and creamy.  Seven napkins later, the male critic threw in the towel and pronounced himself done (the female critic only used 3 napkins).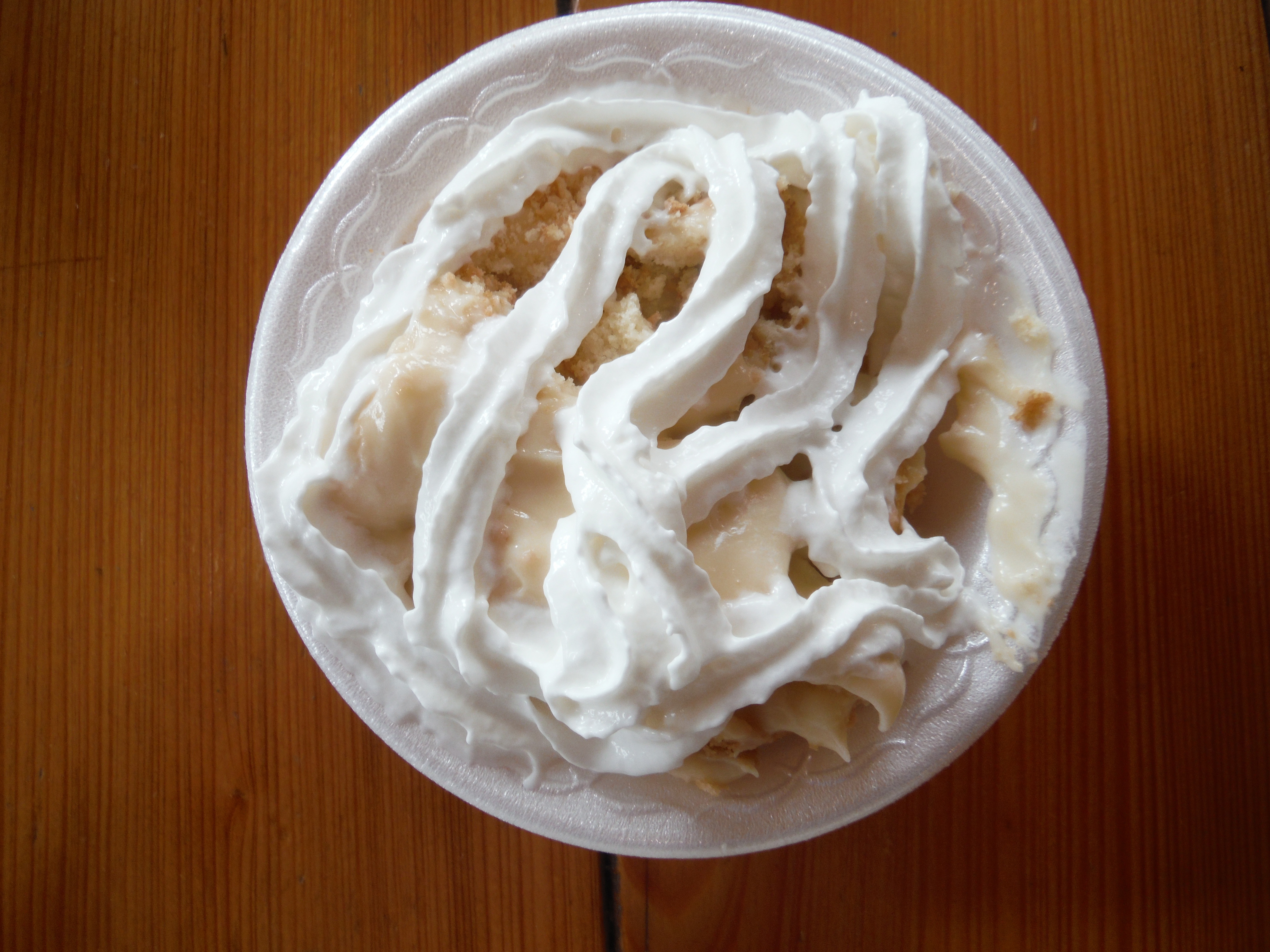 The menu for Swine Dining is limited, but think quality not quantity.  Aside from the main items already mentioned, burger and bar-b-que chicken plates are also available.  There is a children's menu with the choice of a cheeseburger or grilled cheese sandwich.  Sandwich plates range from $4-$10.  The chicken plate is $10, and rib plates range from $10-$24.  The male of the duo questioned where else one could get a half rack of ribs with 3 sides for $14?  Desserts, of which there are two — banana pudding or a chocolate brownie — range from $1.50-$2.25.  Tea, lemonade, and the customary carbonated drinks are available.  While there is a "bar" area, Swine Dining does not serve alcoholic beverages.  In all, our meal, including tip, was around $35.
What we have come to notice about the different restaurants we have thus far reviewed is that the passion and involvement of the owners seem to reflect exponentially in the food and service.  As with other establishments that have received high marks from the Culinary Critics, the owner of Swine Dining was on site when we visited.  He was a present figure throughout our dining experience, going around to the different tables and talking with and checking on the patrons.  Our server, too, needs mention as she was very attentive and friendly.  Our tea never got empty, and she asked if we wanted a fresh lemon with each refill.
The Culinary Critics visited Swine Dining on a Thursday a little after 5:00 in the evening.  This is noteworthy because Swine Dining had already almost completely sold out of ribs.  That is because, as it was explained to us, the owners feel that ribs should be served fresh.  As such, they estimate the servings for each day, so sometimes their estimates might be off.  We later learned that while they are building a name for themselves with their ribs and bar-b-que, Swine Dining is also fast becoming known for their burgers.  Apparently, they are one of the most sought-after menu items.  The female of our pair was greatly disappointed to hear this, as she, being a great lover of cheeseburgers, had already been told by the male critic that she could not order a cheeseburger at a bar-b-que establishment.  Sadly, we have no personal experience with Swine Dining's cheeseburgers to report.  However, this just gives us another excuse to visit Swine Dining again in the near future, because, as we found, Swine Dining is a good place to pig out!
Swine Dining of the Carolinas Rating: 4.5 Forks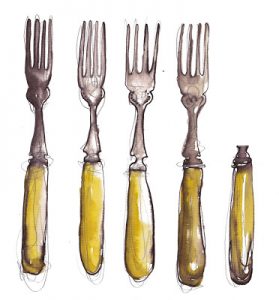 Rating System: 0-5 forks
0 forks – Not good at all; 1 fork – bad but might try again; 2 forks – fair; 3 forks – good; 4 forks – great, and 5 forks – excellent.