3rd Generation Catering & Family Restaurant
---
Thursday – Hot Bar 11 a.m. – 2 p.m.
ALL YOU CAN EAT BUFFET 5 p.m. – 9 p.m..
Friday – Hot Bar 11 a.m. – 2 p.m.
Menu to Order – 5 p.m. – 9 p.m.
Saturday – Menu Ordering 11 a.m. – 9 p.m.
Sunday – Hot Bar – 11 a.m. – 6 p.m.
Catering and Private Gathering Available
---
600 Calhoun Street
Johnston, SC
803-430-5052/803-275-4999
3rdgenerationcatering.com
---
This month the Culinary Critics headed back to the Restaurant Mecca of Edgefield County; Johnston, SC.  3rd Generation Catering & Family Restaurant is located on Main Street of this restaurant laden town in front of the Police Department.  The building most recently held an Irish type pub, but all remnants of that establishment are gone.  Instead, the pub atmosphere has been replaced with warm, Southern class and charm.
One is quickly greeted upon entering 3rd Generation and encouraged to seek a seat.  The Culinary Critics went to the restaurant on a Sunday around 1:30 in the afternoon.  As this was a day the hot bar was being featured, our drink orders were literally taken mid-walk to the serving area and were waiting for us when we returned to our table.  We chose a table in one of the nook areas located on either side of the entrance door.  This gave a somewhat intimate and private feel but still allowed us to be a part of the celebratory, family atmosphere that encompassed the restaurant.
The layout of 3rd Generation is very open with over a dozen tables of various sizes filling the dining room.  Table capacities range from 3-6 people, but the tables are all able to be moved to accommodate larger parties.  The tables are covered with either white or burgundy linen table cloths and over most of the tables is a protective plastic cover.  Interestingly, one of our two real complaints involves our table.  (The other complaint will be discussed in a bit.)  Our table, being a pedestal table for 4-6, was quite unsteady, and if little patrons had been in tow, might have ended up wearing our meals.  However, we tend to think, for whatever reason, our table was an exception to the rule as the other tables, most of which were occupied, appeared quite steady, and we saw no food landing in laps.  Our small concern aside, with gleaming hardwood floors, large ceiling fans running down the middle of the room, and bright colors offsetting the cream colored walls, the impression is both clean and inviting.  A classy feel but not uptight or pretentious.  The layout also lends well to visiting with the neighbors, which was something that was happening all during our visit.  In fact, it felt as if we had crashed a family reunion of sorts, but no one minded, and we were welcomed.  Laughter floated freely amid the soothing sounds of classical piano tunes which drifted lightly through the air.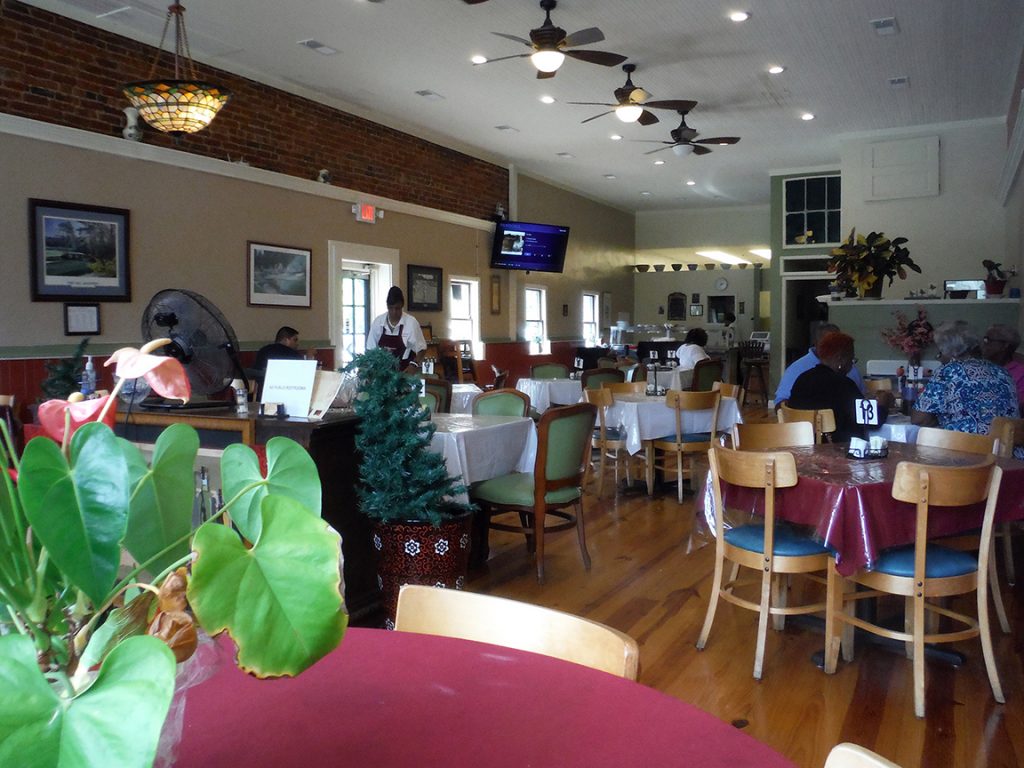 When we walked into the restaurant, we were pleasantly surprised with its look and atmosphere, but that was nothing compared to our reaction to the food.  A hot bar is similar, of course, to a buffet; the difference here being the hot bar is not self served, is more limited in selections, and is not all you can eat. However, as those who are familiar with the Culinary Critics' other reviews may remember, we are not easily impressed with buffets, and we were somewhat apprehensive that the food from this hot bar would be too similar to the food found on buffets.  Our worries were unnecessary, though, as the food was homemade, fresh, and simply delicious.  We were given the choice of two pieces of meat, three sides, and corn bread.  Between the two of us, we were able to sample a little of all the hot bar's offerings (except the corn) which included baked and fried chicken, pork roast in brown gravy, butter beans, macaroni and cheese, rice and gravy, and cut mustard greens.  Let us begin by saying, the helpings are heaping and delicious.  As the male critic pointed out, "There was nothing bad on my plate."  In fact, he declared the fried chicken the best he has had and the baked chicken wasn't far behind.  The pork roast was tasty and so tender it could be cut with a fork.  All of our selections were above average, and we were quite pleased with them, but as we had heard a lot of talk from several people raving about the macaroni and cheese, this was something we were both excited to try.  We were not disappointed.  It is very cheesy and very yummy.  Then, of course, there was dessert.  Choices there included three different types of cakes.  We chose to share a slice of multi-layered chocolate cake.  It was so rich, moist, and melt in your mouth delicious.  We left so plump and full, we could have passed for Thanksgiving turkeys!  A truly enjoyable meal with a good atmosphere and great food.
3rd Generation is only opened Thursday – Sunday, and each day's offering varies from buffet to hot bar to menu ordering.  Thursday is the restaurant's only time for all you can eat buffet which is quickly becoming known for its offering of quail.  Friday's menu offers a variety of seafood, and on Saturday's menu, burgers, sandwiches, chicken dishes, and country fried steak can be found.  Drink choices include "Aunt V's" sweet tea, lemonade (which is sooo good), and Pepsi products.  The hot bar is $9 for lunch but $11 on Sundays.  The all you can eat buffet is $12.50.  Our Sunday hot bar price included beverages but dessert was $2.50 extra.  Menu items range from about $4 for a house salad to $20 for snow crab legs.  There is a discount offered to military personnel, law enforcement, and senior citizens.  The cost for our two hot bar meals, dessert, and a tip was about $30.  It must be noted, here, that, at least on Sundays (and we believe this is probably true of other hot bar days and for the buffet), that payment is taken directly after serving from the hot bar.  Here is where our only other real complaint comes in: we found it very difficult to pay while trying to manage a tray of food.  Also, this paying before being seated and eating makes tipping iffy.  One either takes a chance and tips ahead, hoping for good service, or, perhaps leaves no tip.  Paying ahead could be a real disadvantage to the wait staff, too, especially for those not comfortable with relying on good service.  As such, tipping in advance could see tips not reflective of the actual service provided.  The Culinary Critics' are happy to relate that we had friendly and attentive service.  However, our advice for settling this conundrum is to take additional cash for tipping.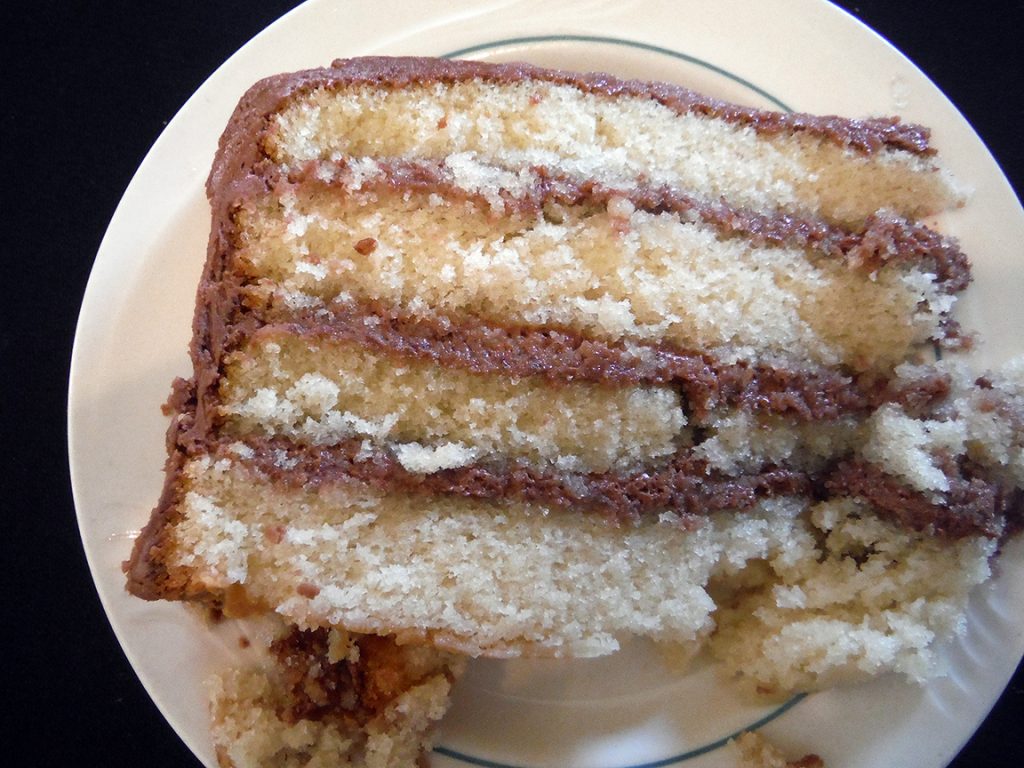 3rd Generation is another example of the Culinary Critics' theory that restaurants in which the owners are present and involved are restaurants in which the food and service tends to be the best.  The owner of 3rd Generation helped in serving and made the rounds to all the tables checking on her patrons.  Her passion for her business was evident and is no doubt lending to her restaurant's success.
For those accustomed to going out for lunch after church on Sundays, the Culinary Critics would like to encourage you to try 3rd Generation.  Feed your soul at church with worship and praise, and then feed it again at this Southern restaurant with good ol' soul food.  The Culinary Critics certainly intend to visit this establishment again.  In fact, the male of our pair said, "I could go there, a lot."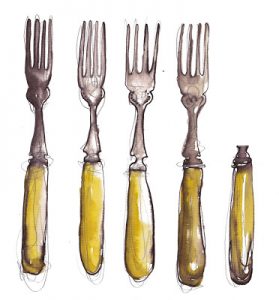 3rd Generation rating: 4.5
Rating System: 0-5 forks
0 forks – Not good at all
1 fork – bad but might try again
2 forks – fair
3 forks – good
4 forks – great
5 forks – excellent