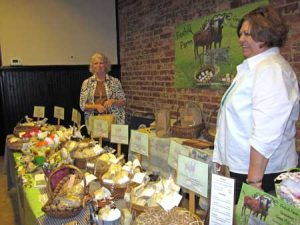 "Olde Treasures" of downtown Ridge Spring reports: "What an awesome da; we had at our very first indoor mini Charleston Style Market. Not only was this our first market day, but it was the revealing of the facelift to our annex store (formerly BS Johnsons). From the comments and conversations we had from local folks, our work was not in vain. We heard things like, this building looks awesome, it is so welcoming, it captures the Charleston ambiance dead on, wow, the bricks are beautiful, etc.. We want to thank everyone from vendors to customers for helping to make this a successful event. We have had many requests to repeat it and we are in the process of planning dates for repeat performances.
"Our antique shop was flooded with customers, many of whom have never been in before. They all seemed very excited to be in our special town and in our shops. Sales were good, people were excited, and everyone seemed to be having fun.
"Our goal in doing this market was twofold, one to put this beautiful century plus building to use and two, to bring awareness to our beautiful small town where hospitality abounds. It was our sincere desire that not only we prosper from this adventure, but that every business in town prosper as well. We are so thrilled to be a part of Ridge Spring and hope to enhance what is already here. We are all truly in this adventure together.
"One of the townfolk came in and told Larry that he had accomplished something that he hadn't seen in a while and that was that there was not a parking space to be found in Ridge Spring! How neat is that?
"We enjoyed some wonderful gospel music and dulcimer playing outside. People seemed to just sit around and enjoy the day. No one was rushing about and the weather was absolutely perfect. In my opinion, you could not have custom designed a better day! Thanks to everyone. We appreciate your business and your loyalty."
Submitted
—
See our Ridge Lines column by Josie Rodgers in the print addition of The Advertiser each week. Subscribe today, so you don't miss any of our community news, exclusive to the print edition.