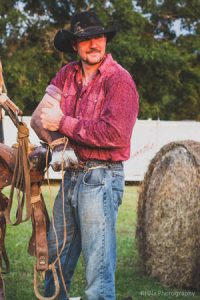 – By Tiffani Ireland –
If the crowds were any indication, the 8th annual Sandy Oaks Pro Rodeo was a definite success.  Even Friday night, when the event contended with area football games for attendees, the bleachers were full.  However, Saturday night's event saw standing room only as every available seat seemed taken!  While all the tickets have yet to be counted, Sandy Quarles, co-owner with her husband, Wesley, of the rodeo, put the early estimated total of attendance for both nights at 7500.   Stating she did not want to sound boastful, Mrs. Quarles commented, "I think it went pretty good," in speaking with The Advertiser Monday morning, Aug. 26, following the weekend's event.
Of the thousands that came to the rodeo this year, several famous faces from the world of rodeo made an appearance.  While there were several world champions among the many riders, one contestant sure to be recognized by NASCAR fans was Taylor Putnam Earnhardt, daughter of the late Dale Earnhardt, Sr.  Perhaps most notable among the famous in attendance this year, however, was Professional Bull Riding Champion J.B. Mauney.  He attended Friday night's event to see his sister compete in the barrel racing competition.  Of the local dignitaries represented, Edgefield County Administrator Lynn Strom, Edgefield County Sheriff Adelle Dobey, Trenton Chief of Police Deke Tanks, and Johnston Chief of Police Chris Aston all made an appearance at the event.
The continued draw of rodeo celebrities and local dignitaries, however, is not what Mrs. Quarles credits for the rodeo's continued success.  "If it wasn't for the Lord, we couldn't do it," Mrs. Quarles stated.  Aside from the Lord, Mrs. Quarles also said a large part of the rodeo's continued growth and prosperity is due to its sponsors and her rodeo staff.  Mrs. Quarles said, "My rodeo staff is the best in the world," adding, "I want to commend my sponsors.  They have stood by this rodeo since it began."  Mrs. Quarles also said, "Edgefield backs the rodeo 100%," and gave credit to her Westside neighbors whom she called "the best neighbors in the world!"  Mrs. Quarles said the assistance of the Westside and Merriwether Fire Departments was invaluable and commended the local Boy Scout troop on their participation.  Not only did they present the colors each night, but they also worked to cleaned up trash and helped keep the venue tidy.  Of all those who helped behind the scenes to make the rodeo a success, however, Mrs. Quarles noted one, her husband, Wesley, without whom she said "the rodeo could not go on."
Mr. and Mrs. Quarles are excited about continuing the rodeo tradition in Edgefield County.  She noted that in just two years the event will mark its 10th anniversary and related that plans are already in the works to make that a grand celebration.
—-
Click on a thumbnail imaged below to enlarge and begin scrolling through the gallery.